Despite my calm, cool, and collected exterior, my mind is a zoo of thoughts and anxieties. I like to keep the peace in my relationships and situations and I long for harmony in everything, so I tend to keep those thoughts to myself most of the time for fear of making a big deal out of nothing.
I'm easygoing to a fault – please don't ask me to make decisions if you want a quick answer – and will do anything I can to avoid conflict in my relationships. If I find myself beginning to dwell on things that interfere with that, I'll distract myself with something in order to avoid it.
One of the problems with this is it affects my relationship with Christ. I have an extremely difficult time surrendering to Him because it means I have to fully admit whatever I'm surrendering (which usually involves some sort of outer or inner turmoil).
You see, I tell myself that as long as I'm holding on to those worries and problems, I can continue to stuff my emotions (fear, sadness, anger, bitterness, hurt) down further and further and keep the peace. This eventually leads to essentially numbing myself of all emotions, including positive ones like joy and sadness, in order to avoid feeling too deeply and being overwhelmed.
THIS IS SO UNHEALTHY.
Stuffing emotions down all the time and pretending to not care creates so much internal anxiety (even if I don't recognize it as that), which affects my mind, relationship with God, and relationships with friends or family. It even creates excess stress on the body and affects physical health. So really, the thing I'm trying to avoid ends up happening because I'm trying to avoid it, and at some point I find myself looking something like this: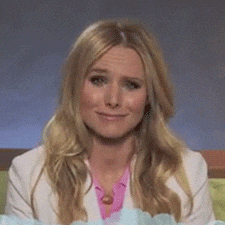 This doesn't just apply to conflict with other people. This is 100% true of inner conflict like shame and guilt. I resist working through problems with God because I feel a pressure to pray the perfect prayer or have it all figured out and resolved before coming to him with it.
Are you hearing me? I fall prey to the idea that I can't come to God in my weakness because it'll negatively affect my relationship with him.
This thinking is so wrong. It goes completely against the truth of the gospel, but somehow I still let that lie creep in.
And that finally brings me to the thing I came here to share with you all.
Likewise, the Spirit helps us in our weakness. For we do not know what to pray for as we ought, but the Spirit himself intercedes for us with groanings too deep for words. And he who searches hearts knows what is the mind of the Spirit, because the Spirit intercedes for the saints according to the will of God. And we know that for those who love God all things work together for good, for those who are called according to his purpose.
-Romans 8:26-28
Did you read that? The Spirit himself INTERCEDES FOR US when we don't know what to pray for! He helps us in our weakness. I always find myself coming back to this passage because it blows my mind.
We don't need to come to God with perfectly crafted words, or with a solution already in mind, or knowing what his will is in this situation. When we're weak and don't know what to pray for, the Holy Spirit himself intercedes on our behalf with groanings too deep for words. Think about that for a moment.
Earlier in this chapter, we see a long description about creation groaning under the burden of the curse of the fall. We, as believers in Christ, groan within ourselves, longing to be all that we can be and have been promised will come in full glory. The Holy Spirit is longing (groaning) for this same glorification.
In the same way that he groans for our redemption, he groans for us in prayer when we can't do it ourselves. How amazing is that?
Even though we don't always know God's will when we pray and we don't always know what to say, the Spirit intercedes – speaks for us. And since the Spirit always prays according to God's will, God will always answer the Spirit's prayers – which are for us – in the affirmative.
Every time I come back to this, my mind is blown all over again and I wonder why I even worry about anything.
All God is looking for is a heart that's open and receptive so he can do his thing.
This sounds so easy, but it's a hard thing for me because I know being open to God working in my heart means being open to internal and external conflict as he helps me work through the messy things of life. It means addressing shame, guilt, mistakes, hurts, and any relationships these involve. And that part is everything I don't want to do.
What I'm beginning to begrudgingly accept is that this conflict is necessary for growth. And that's a really hard truth for me to swallow.
But if I'm willing to come to God and surrender things to him always (not just a one-time thing), he will bring freedom from those conflicts. And by facing all those scary emotions, my heart will also be softened so I'm able to experience the fullness of joy that is in Christ.
It's messy. It's scary. It's hard. God never promised us an easy life free of pain and conflict. But what he does promise us is he will always carry us through those times – his love has been poured into our hearts – and that suffering produces endurance; endurance, character; and character, hope (Romans 5: 3-4).
With love,
Sarah